Completed Unity Tutorial Series:
Recently I took it upon myself to learn a bit more about Unity. They have fostered such a robust and vibrant community of developers that it becomes contagious. Making a game is no small undertaking, but thankfully now there are resources like Unity and Unreal Engine 4 that offer communities and documentation that I wish I had growing up. And on top of that, the software is basically free to learn! My first real foray into game development with Unity can be played below. If you have any interest in game development, you should definitely check out Unity and UE4. Both offer full featured platforms for developing any kind of game your brain can dream up. Be it casual or triple A, if you know the tech, and you have some healthy determination, everything you need is now at your fingertips. I am very excited for the upcoming video game generation. I think we are likely to see indie devs explore new ways of playing that we have never seen before. On top of that, virtual reality support is gaining traction quickly, along with other interactive technologies like the Leap and Kinect. What sparks your imagination? What about this generation of games and game dev has you the most excited?
If you'd like to learn how to crawl in Unity, check out some of these games below.  I built these using the tutorial series available on their site and they do range in difficulty, but I found them to be indispensable for learning.  If you don't have it, be sure to download their current Unity Web Player to play games in your browser. You'll also need to be using a more modern browser like Firefox.  Cheers!
Unity: Roll – A – Ball
Controls:
• Use Arrow Keys for Movement
Unity: Space Shooter
Controls:
• Use 'Space' to Fire Lazers
• Use Arrow Keys for Movement
Unity: Nightmares
Controls:
•  Use Mouse to Aim
•  Left Click to Fire
•  Use Arrow Keys for Movement
Unity: Stealth
Controls:
•  Hold 'Shift' for Stealth
•  Use Arrow Keys for Movement
•  Use 'X' to Attract
•  Use 'Z' to Interact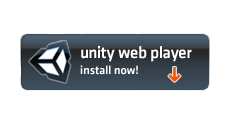 3,391 total views, 1 views today